Upgrade Alerts
Upgrade Alerts give you a quick snapshot into the power and diversity of the Streamdesk CMS / CRM platform, it also shows you how it is constantly adapting to changes in thinking and technology.
You can now see traffic data, extracted directly from Google Analytics, to specific Web Pages and Content Items, so you can see exactly how they are performing.
This is a great tool that shows you the impact that SEO, social media postings, newsletters, online marketing and offline advertising is having on traffic to specific parts of your website.
It's also an excellent way to reveal how content changes influence visitor traffic to each page and content item.
Last 30 Days and daily trends are shown
You can now apply promo codes to membership and joining your organisation.
This option allows you to provide discounted or trial membership to applicants when they sign up to join your organisation, or when they renew their membership.
Give Discounts on Membership
Set Promotional Codes Expiry Dates
Set a limit on the number of times that the code can be used.
This promo code option allows you to offer free / trial / discounted membersip to attendees to your event.Like all other promo codes it can be limited to a certain number of bookings, after which the core is disabled.
Just create a promo code – then add the number of days of membership you are giving to people who use the promo code for that event.
It will add them as a member and also add the number of days to their membership expiry date (todays date + the number of days)
The Event - when you put the promo code it
Do you want your content items to receive feedback from readers?
With one click you can allow your content to start receiving comments that in turn will be published on Facebook.
It's simple
Just click on the Content Item
Click on the SEO & Social tab
Click Allow Facebook comments and then click update
You can now put your historical Roles / Positions into StreamDesk.
Just :
Click on the Contact
Click on Positions
Choose the Year from the dropdown
Choose the Position
Scroll down then click on Update Role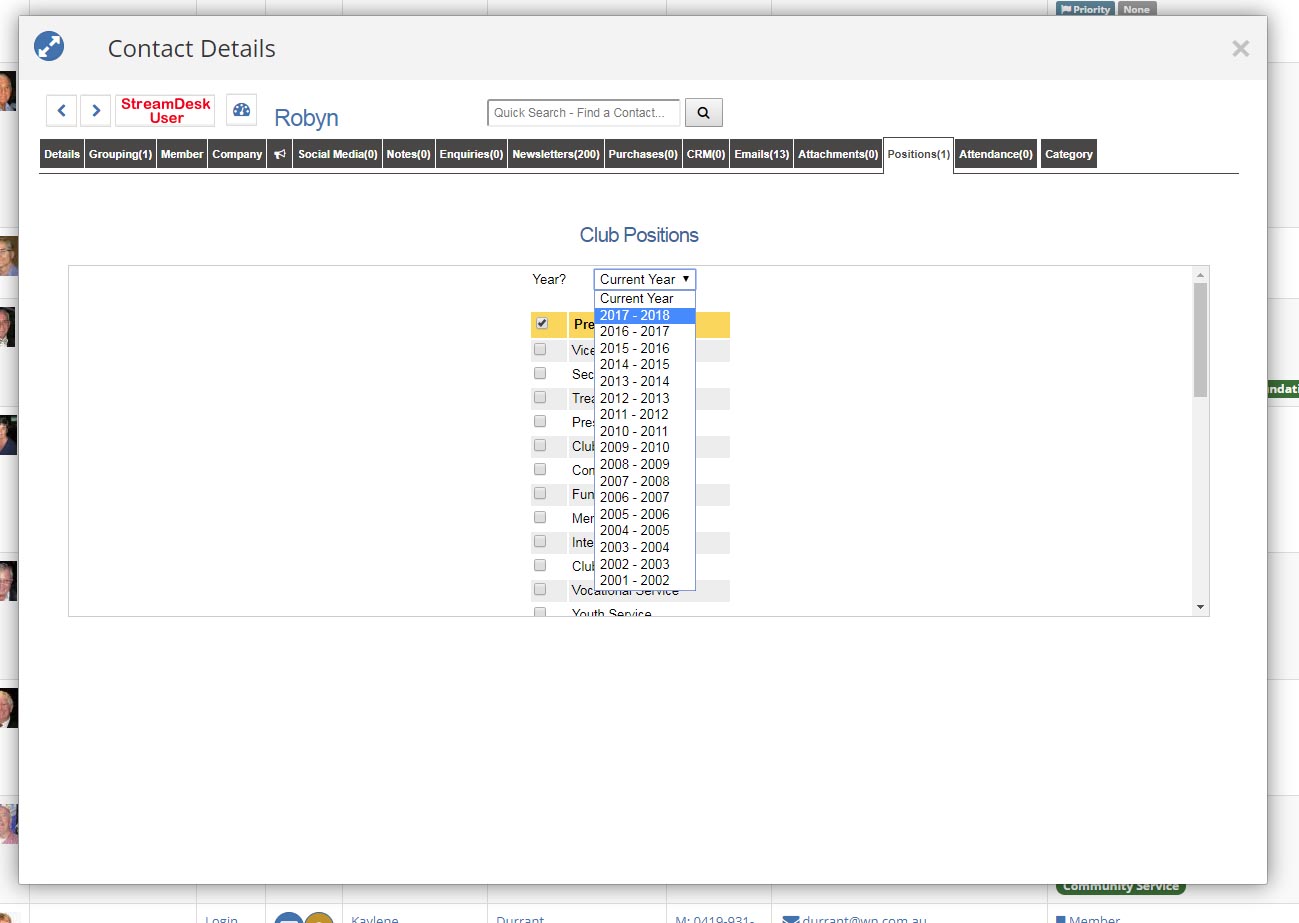 They even show up on your Contacts Console
Green is for a current role
Grey is for a historical role
Your website now shows history too
You can now put your historical teams/committees into StreamDesk.
Just :
Add a new team/committee
Enter the year that the team/committee was enabled
Add the team members
They even show up on your Contacts Console
You can now view and restore previous saved versions of your content using the history tab.
Whenever you save something a copy is stored with the date/time and who did it. If you want to restore that copy over the current version:
Just click View
Then Restore if that's the one you want to recover
This powerful feature applies to:
Content Items
Web Pages
Products
Newsletters.
You can now personalize your Newsletter Subject Line just like you do your content of your newsletter.
You can add the receivers first name, last name and company into the Subject line.
Now when the receiver gets the email newsletter from you it will have their firstname lastname and also company in the Email Subject.
Do you want to target your newsletters to contacts who must have all the selected contact types.
You can now with Newsletter Blending.
Newsletter Blending allows you to choose contacts who have all the contact types which you selected.
So if you want to choose contacts who are a Member with a High Priority.
Click on Member and High. Then choose Blending - Yes.
Or you may want to choose all contacts who are a Supplier and an Electrician:
Click on Supplier and Electrician. Then choose Blending - Yes.
If you want to send a newsletter to every contact who is either a supplier or an electrician:
Click on Supplier and Electrician. Then choose Blending - No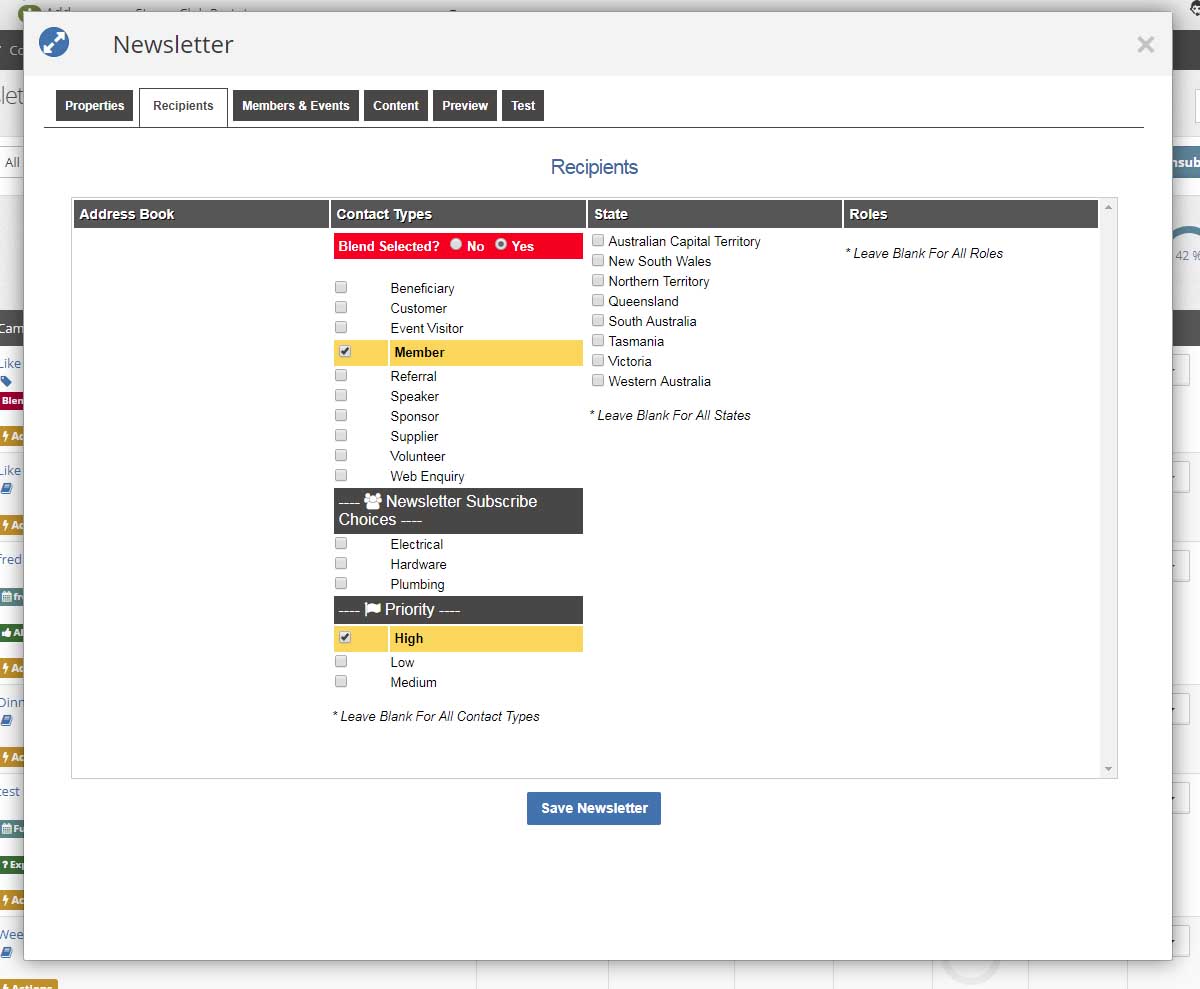 A great new way of creating smart newsletters is using Newsletter Actions.
Newsletter actions allow you to automatically add actions to clicks on your newsletters links.
When ever a newsletter link is clicked on by the receiver they are added to those contact types which you have specified.

You simply alloate the Contact Types to the URL (links) which are contained in the Newsletter
When the recipient receives this newsletter email
Our new multi-category selector allows you to now drill down into your contacts event futher.
Drill on
Email address
Maillist status
Mutiple contact types
More coming
The below search will show you your entire newsletter mailing list with one click.
Lost an email? Forgotten where you saved it? Can't remember whether you sent or received an email directly or as a CC?
You can now instantly grab all your emails with any contact with one click. The listing automatically collects all emails to and from that particular contact, irrespective of whether they're sent, received, archived or tagged under any number of categories.
This useful tool also recovers emails to contacts that have been included in a CC: communication with somebody else.
This smart snapshot is also available on each your email boxes, too.
Inbox
Sent Box
Archived
Trash
Note that the link only appears if at least one email exists between you (to, from, archived or junk) and that particular contact.