Upgrade Alerts
Upgrade Alerts give you a quick snapshot into the power and diversity of the Streamdesk CMS / CRM platform, it also shows you how it is constantly adapting to changes in thinking and technology.
You can now collect any type of data about your attendees for the events you set up in StreamDesk.
For example if you are hosting a golf day, you may want to collect information such as:
Preferred Tee Off times
Whether they need buggies
Their golf handicaps
What they want for lunch?
Vegan/Vegetarian etc
A personal photo of the player
Etc
You can select anything from your attendee using:
Text fields
Text Boxes
Date fields
Image
Select Boxes
Radio Buttons
Checkboxes
Just go to your event and click on CUSTOM FIELDS
Add all the fields you need then Click on SAVE FIELDS
Now when booking your events the attendee can enter the information required
New Social Media Channels have been added to all contacts :
Snapchat
SoundCloud
Tumblr
WhatsApp
Quicker and easier make appointments with your Contacts.
Direct from your contact
Share appointments with your employees
Manage and Delete appointments directly from your CRM tab
Content items are the most powerful way that you can distribute your information across your StreamScape platform.
* Content items are information which you wish to distribute to your stakeholders
* Content Groups are groups of Content Items which have a relevant or connected message
* ***NEW *** Content Bundles are collections of content groups to streamline your Streamdesk experience
Many clients have many groups of content items. We have now created "Content Bundles" to better organise your StreamDesk Console Panel.
Content Bundles allow you to consolidate your Content groups into a meaningful arrangements - thus making the StreamDesk Experience more streamlined.
---
To Create a Content Bundle
* Click on Content Groups
* Click on Admin
* Click on Group Bundles
* Click on Add New
* Add the name of your Bundle
* Choose and icon if you wish
---
To Allocate a Content Group to Bundle
* Click on Content Groups
* Click on Admin
* Click on All Content Groups
* Choose your Content Group which you want bundled
* Allocate the Group to a bundle and click update
Your Content Groups are now organised into a meaningful arrangement
All configuration areas of your StreamDesk platform are now located under the Admin area of each Category which it powers. This has been done to de-clutter the interface, as well as to provide a foundation for further security and planned user-access control options.
There is now an easy and instant way to promote any newsletter in your social media, on any web page and within your events.
You can now publish your newsletters directly into multiple Content Item lists, thereby anywhere throughout your website, with a single click.
Being a content item it now allows you to create content, webpages, events etc based on newsletters
Steps:
1: Go to your Newsletter
2: Click on Publish In?
3: Select the Content Item lists which you want your event to appear in
4: NOTE - Your Newsletter must be approved before you can publish it into any area of your website
---
Your Newsletter is now distributed amongst your Content Item lists.
Great new functionality for your Email CRM platform.
Instant access to al important attachment files
Search your conversations in an instant
Better mobile design
It should come as no surprise that the easier a URL is to read for humans, the better it is for search engines. Its also easier to share with your friends and collegeaues.
So you can now easily create your own URL's for each of your content items.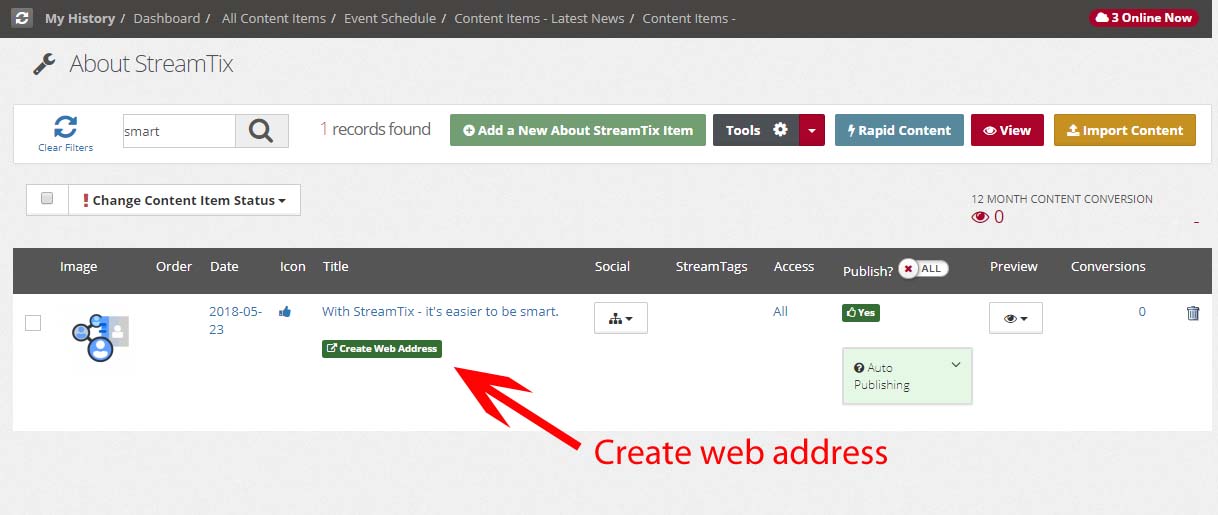 Better access to support and our knowledge base.
You can now instantly access our support centre from anywhere within StreamDesk.
Allowing comments from your users and members is a powerful way to encourage interactivity and conversion on your website. Comments are activated uniquely per Content Item.
You can now quickly import comments from a CSV file
Go to the Content Item which you want to import comments into
Click on the GREY Import Comments button
Download the CSV template file
Follow the columns to where you put your content
Fields such as Authors Email, Date, Comment, Score are there
Then Import the File
You can now quickly import content items from a CSV file
Go to the Content Item type which you want to import data into
Click on the ORANGE Import Content button
Download the CSV template file
Follow the columns to where you put your content
Fields such as Subject, External URL, Authors Email, Date, Summary, Description are there
Then Import the File
Contact types are one of the most powerful tools on the StreamDesk platform.
Wherever you see the Contact Types in the Contacts or Newsletter Console, you will now see a total next to it so you can guage what to do with the information.